Tag: Neha Khanuja
Neha Khanuja (Indian Food Blogger)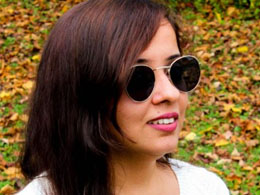 Food Blog : https://greedyeats.com
I'm Neha. I am a food enthusiast. It's my absolute pleasure to welcome you to my food blog "Greedy Eats", my Internet kitchen. All my blog recipes are detailed, simplified, approachable and stuffed with chunks of tips and tricks to guide you throughout the process. I hope the simplicity and apparency of my blog recipes delight you and make your baking/cooking experience memorable.
View Neha Khanuja food blog recipes links below.
Delicious Buttery, moist and healthy whole wheat banana muffins that wait to sit on your breakfast plate.